We're excited to introduce you to the new look Sankey Fraser Eyecare.
Located right next door to our original home of 95 years, we welcome you to experience the best of new and old. Innovative eyecare and modern styling are blended with a rich heritage of service allowing us to care for generations of Toowoomba families like they are our own.
Come on in and look at our collection of museum pieces on display. Items include glass eyes, antique testing and workshop equipment, old style lenses and frames and a collection of vintage frames and sunglasses. As well as these items of interest you will find a wide range of premium quality, international and local eyewear brands with the latest in lens advancements to meet your every need.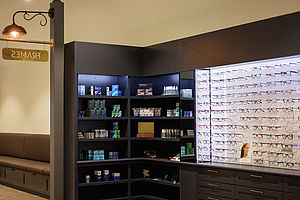 See our new era of family eyecare at 455 Ruthven St, Toowoomba where caring for your eye health and vision is at the heart of what we do.